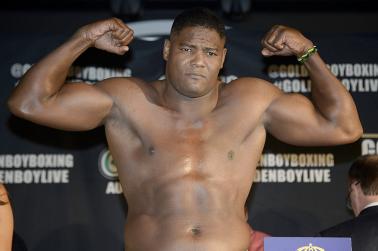 Luis Ortiz
Photo: steroid.com
Just as soon as news of heavyweight Luis Ortizs' failed blood test broke on September 28th I jumped at the opportunity to write a piece about it. At that time there was very little information about the failed anti-doping test and I, like many others, assumed that his November 4th battle with WBC Heavyweight titleholder
Deontay Wilder
would be called off. As the details of the failed test were disseminated throughout social media however things grew ever more complicated. The Cuban born Ortiz, who has previously tested positive for banned substances, was found to have chlorothaizide and hydrochlorothiazide in his system. According to VADA these two substances are masking agents that fighters can use to hide performance enhancing steroids.
Photo: drfuhrman.com
So Ortiz is guilty as charged yet again? No, at least not yet. Ortiz and his team have gone on record as stating that the chlorothaizide and hydrochlorothiazide found in his blood stem not from an attempt to cheat but rather from the fighter's taking of prescription blood pressure medication. Lending some weight to their defense, team Ortiz has even gone so far as to post pictures of these prescriptions on Twitter. While Ortiz does indeed have prescriptions for
Atenolol
and
Losartan
which help control high blood pressure/hypertension it's uncertain, at least at the time of this writing, just how long he has been using these to keep his cardiovascular system in check. More importantly however fans and media members would love to know exactly how and why Ortizs' prescriptions where not disclosed to the anti-doping agency VADA before the program began. One would think that any fighter who had previously tested positive for banned substances would be sure to disclose any and all prescription medications to the firm testing for their next bout. Furthermore where was Ortiz's team in all of this? If there were language barriers, problems with forms, communication issues, etc. could they not have stepped in and up to ensure that
VADA
knew of these important medications? This type of negligence, while not necessarily an indicator of an attempt to cheat, certainly looks sloppy and raises eyebrows.
Given Ortiz's history with banned substances, yours truly was ready to throw the book at Ortiz not long after the initial news found it's way onto the internet. While I don't really have a problem with athletes taking performance enhancing drugs (more on that another time), I'm an ardent believer in a fair fight so as long as these drugs remain impermissible no one should get away with using them. I remained steadfast in my belief that Ortiz was probably guilty until I listened to
Victor Conte
talk about the situation on Steve Kim's "The Next Round" this past Tuesday morning. At one point Conte was convicted and imprisoned for helping boxers use performance enhancing chemicals but since his release he has remained at the forefront of the clean sport movement. To say he knows a thing or two about using steroids, how to mask attempts to cheat, and anti-doping testing protocols would be selling the man short. You can listen to Victor's entire guest spot on The Next Round
here
but Victor does not believe there was any intent to cheat and provided some very sound and persuasive arguments to back his position up. Conte also stated that in his opinion the Ortiz-Wilder fight should move forward. After listening to Conte's arguments I changed my position and now feel as Victor does with regards to the Wilder fight moving forward.
Enter The WBC
Since 1963
Photo: thesweetscience.com
Not long after it was reported that Ortiz had once again tested positive for banned substances, there was mention of Deontay Wilder expressing interest in the fight moving forward regardless. At the same time, team Ortiz offered to submit hair samples for further testing in hopes of proving their fighter's innocence and to keep the title fight alive. No one but those closest to the WBC champion however can attest to just how serious Wilder was in wanting to fight Ortiz but that became a moot point when the World Boxing Council stepped in and withdrew their support for the fight. The organization asserted that they are putting the health of Luis Ortiz first and want him to see a doctor in order to determine if it's safe for him to fight. Additionally they ordered Wilder to face his mandatory challenger...one
Bermane Stiverne
. There are plenty of examples where a sanctioning body forcing a fight between a champion and his mandatory challenger have proven to be good for the sport but this is not one of them.
If a "mandatory challenger" is a boxer that has worked hard, defeated other top talents in his division, and done something special to earn a shot at the champion, Bermane Stiverne is the absolute antithesis of that. Making matters worse for fans and for the heavyweight division, Stiverne was beaten convincingly by Wilder in a unanimous decision back in January of 2015. Since that loss to Wilder, Stiverne has fought just once against journeyman Derric Rossy (30-10-0 15 KO's) in a fight where he won a decision but saw himself hitting the canvas in the first round after Rossy connected with a right hand. Unworthy and vastly over matched mandatory challengers are a staple in the sport but Stiverne is the type of fighter that gives those fighters a bad name. It would be generous to say that Stiverne has done nothing to earn the title shot he's being given though it is worthy of noting that Stiverne is promoted by Don King. It's also worth noting that Stiverne himself tested positive for banned substances just last year and spends more time eating and partying than he does training and fighting. If boxing fans and the sports media seem less than thrilled with the November 4th Heavyweight title fight you now know why.
Final Thoughts
In this writers opinion Wilder vs Ortiz should have gotten the go-ahead from everyone, including the brass at the WBC. Instead fans will be subjected to a farcical match up and one that has the potential to retire Stiverne. 2017 has been the best year boxing has had in a good long while yet even in a year such as this there are bound to be bumps in the road. In closing and in the interest of objectivity...it's entirely possible that Ortiz obtained his blood pressure medications in order to mask other banned substances. It's also possible that the WBC is sending Ortiz to a doctor to determine whether or not he actually needs those medications. Pundits on both sides of this issue have legitimate concerns, especially since Ortiz has been caught cheating before. However in this case I do not see any evidence of cheating nor an attempt to. Remember that correlation doesn't necessarily imply causation.
I swear this over-the-hill racquetball player isn't masking anything! Oh...and my doctor strongly encouraged regular and vigorous exercise while she was writing this prescription out. Food for thought.
Scott Jarvis is a boxing writer for Split D Boxing. He can be reached on Twitter, Facebook, or by email at splitdecisionbox@gmail.com. You can also support Split D Boxing on Patreon!