Middleweight Supremacy
Photo: worldboxingnews.net
The night of Saturday September 16th, 2017 is the night boxing fans have been salivating over ever since Canelo Alvarez exclaimed, "
Golovkin, you are next my friend
" just moments after he defeated Julio Ceasar Chavez Jr. back in May of this year. The battle for Middleweight supremacy is now just mere days away and the general consensus surrounding this fight is that it will likely be a highly competitive bout full of drama. Some fans and experts have had a difficult time picking a winner and have waffled more than once changing their pick, including yours truly. This waffling is almost assuredly due the fact that at first glance it can be somewhat arduous to see past the hype, the hyperbole, and the biases but when one puts the fighters under a microscope choosing a winner becomes much easier. Before we get to any sort of prediction it would be foolhardy not to spend some time looking at each fighter, more specifically their strengths, weaknesses, past performances, resumes, etc.
Who is Saul "Canelo" Alvarez?
Photo: boxrec.com
We'll begin with challenger
Saul "Canelo" Alavarez
whom currently holds an impressive and respectable 49-1-1 (34KO's) record. Canelo is a counter puncher who naturally prefers to set traps and let his opponents come to him. He'll often employ a rope-a-dope type strategy in hopes that his opponents will let their hands go so that he can land a counter shot and set them up for more meaningful punches. Furthermore Saul has good upper body movement and hand speed which compliments and strengthens his counter punching style. To assert that Canelo does most of his best work from mid range would be an understatement as this is the Mexican's calling card. With a KO ratio of just 67% Canelo isn't the murderous puncher some make him out to be but Canelo hits heavy enough to give his opponents pause and cause for concern. Those Canelo opponents who've had defensive lapses and shortcomings often find themselves down and out on the canvas. Defensively speaking, Canelo not only utilizes his movement to both avoid and roll with his opponents punches but when it's needed, he's also got a nice tight guard as well.
Canelo Alavrez is a very good fighter and one that no fighter of any quality should ever take lightly. There are some glaring issues surrounding the fighter however and it's only right that I include those here as well. For starters, Canelo has awful footwork. It's not the worst in the sport but he is slow, plods around the ring, and will sometimes stand still, especially when he's being offensive. Speaking of offense...when Canelo is standing still he has a bad habit of lunging and reaching with both his jabs and his crosses. He keeps one hand up but while lunging in or reaching he leaves both his chin and abdomen exposed. Thus far no one he's faced as been able to capitalize on this but against Golovkin the first time his open chin or body is checked it may be the last.
Perhaps the most questionable thing about Canelo is his resume. The argument can be made that Canelo is more a product of careful marketing and matchmaking than he is raw talent or skill. In many ways Saul's career plan and trajectory mirror that of the one man to defeat him, one Floyd Mayweather Jr. Canelo has been the beneficiary of normally recessive genes and a very creative and intelligent matchmaking team. Yes, Canelo has fought the likes of the great Shane Mosley, Erislandy Lara, Amir Khan, James Kirkland, among others but everyone seems content in glossing over the fact that all of the aforementioned fighters were either over the hill, vastly overrated, B level fighters, or coming off of long layoffs that included drug use and jail time. Sometimes a boxers name carries more weight than his actual accomplishments do and Canelo's team has played this angle to a hilt. Furthermore Alvarez was made to look questionable by Austin Trout and to a lesser degree Erislandy Lara. These two boxers are arguably 2nd tier fighters on their best nights. For the record I had Canelo eking out a decision against Lara and thought Trout beat him by a round. Many make the argument that Canelo has improved since those fights and he has. He has become a better fighter over time but that doesn't mean he's on Golovkin's level in terms of experience, skill, or ability. It should also give fans and members of the media pause when they stop and consider that Canelo has only once faced elite level competition and that he not only lost but was made to look ordinary when he fought on that stage. Mayweather made Canelo not only look green but showed just how limited Canelo was during that time. None of the opponents he's faced since the Mayweather bout have been the type of fighter to push Saul, to show us if he's got a second gear, a backup plan, or just how much he actually has improved. Instead, the opponents he's faced since losing to Floyd were selected to build a brand, a name, and an aura. Being the draw he is Canelo has always had options when it comes to who he fights yet he always seems to be in against someone who is way past his best or against someone who was never that good to begin with. If you're a Canelo supporter these things should worry you heading into the Golovkin fight.
Who is Gennady Golovkin?
Photo: boxrec.com
Gennady Golovkin
otherwise known as "GGG" is not only
the
Middleweight Champion Of The World, he's one of the best and most dominant middleweight champions in recent history. Some have argued that the only reason why he isn't yet the Undisputed Champion at 160 lbs is due to the political landscapes within the sport. That said he holds 3 of the 4 major titles in his division and is the most avoided fighter in the sport today. With an undefeated record of 37-0-0 (33 KO's) Golovkin carries a versatile and deadly arsenal into the ring with him. This arsenal consists of ramrod style jabs, devastating hooks that find their way around high guards, lethal uppercuts, and bodywork that's put more than a few of opponents away; his left hook to the body dropping and stopping a number of opponents. Golovkin's defense is overlooked primarily because of his devastating power and highly effective offense but the truth of the matter is that he does a great deal of small things defensively that are easy to miss. Not only does his defense stop punches from reaching his face and body but they are capable of disrupting his opponents offense as well. GGG picks shots off with his gloves and arms, uses superior footwork to ensure he's not in range of punches, and has shown that he has an iron chin as well. Golovkin puts a relentless pressure on his opponents and rarely stops coming forward, throwing punches almost the entire time. Like Canelo, GGG does his most impressive and destructive work from the mid range and is careful to never smother his own work. Making matters worse for his opponents, he's also an economic puncher with high accuracy. His ability to cut off the ring and shift are second to none and put him or leave him in positions to strike and befuddle his opponents.
On paper Golovkin looks and sounds unstoppable but the cold truth is that no boxer is unbeatable. The right time, the right opponent, the wrong style, and bad timing have all felled many a great fighter. Golovkin's high pressure style and emphasis on offense means that the champion is often there to be hit. There is great risk in fighting the way GGG does and the right punch at the wrong time could turn the tide of or even end one of his fights. Although some pundits cite a lack of conditioning or gassing in his fights, don't put too much stock into such claims. Gennady has shown that even when he's breathing heavy he remains the effective aggressor and a menace to his opponents. Some defensive liabilities aside Golovkin's biggest downfall may be his age. Although he's not an old fighter, especially by today's standards, he is 35 years old. He's also not as active as he once was having become a twice a year fighter; not exactly ideal for an aging pugilist. Furthermore, Golovkin critics are quick to assert he looked sloppy or showed signs of slipping against Kell Brook. While it's true that Brook wasn't an easy out, Golovkin broke Brook's body and obliterated his orbital bone in a fight in which he won all but 1 round. Don't be fooled by the anti-Golovkin rhetoric nor those fans who don't know the sport as well as they'd like to think they do. Even in a less than spectacular performance against Danny Jacobs last spring, Golovkin not only dominated the fight while looking less than himself but he won the fight using mainly his jab, knocking Danny down once in the process. There is then the issue of the rumored neck injury Golovkin sustained in the Jacobs fight. Rumors are indeed hearsay and there is no evidence of an injury but if there's any truth to this one, one has to wonder not only how serious the injury was but how it might have affected Golovkin's weight, training, and ability.
Two Years In The Making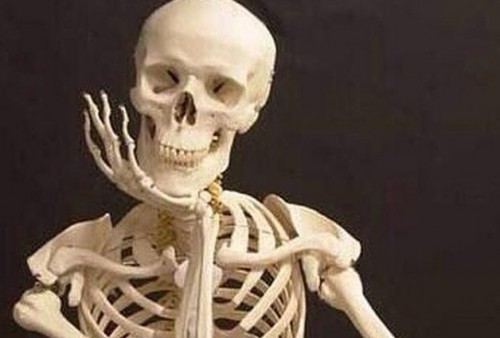 Photo: i.imgflip.com
Canelo vs Golovkin has been the fight to make in boxing for the better part of 2 years. En route to this Saturday it's important to remember that Canelo did everything he could to avoid this fight over the course of the last two years and GGG and his team did everything they could to make it happen. Some might want to be dismissive of Canelo's voluntary relinquishing of the WBC middleweight title so that he could drop down a weight class and fight a hand picked opponent instead of Golovkin. These same people might also conveniently forget that Alvarez paid Golovkin step aside money on more than one occasion so that he could fight less dangerous albeit more lucrative opposition. They will also gloss over that Canelo fought at a catch weight of 164.5 lbs against a badly faded and overrated Julio Ceasar Chavez Jr. It's dishonest to overlook these facts and they're very important when remembering that Canelo has always been the fighter with options while GGG has had to settle for whomever he could get. The actions of both camps/fighters speaks volumes about their confidence in this matchup.
After looking human against Jacobs however, team Canelo must have seen something in Golvokin that gave them confidence enough to move forward with this fight. Canelo didn't vacate titles and move up and down in weight to help "marinate" this fight. Sure there's huge money to be made in a fight of this magnitude but the Golden Boy brass knew exactly what they were doing in waiting 2 years or at the very least they believe they have.
In the two years since Canelo defeated Miguel Cotto he has been involved in a handful of mismatches against 2nd tier and fatally flawed opponents. He's fought no one that could have possibly prepared him for Gennady Golovkin, not even a faded version of the champion. To that extent, Canelo hasn't even fought at the middleweight limit...not once. He's never fought against nor defeated a true middleweight and this writer would argue he's never beaten a single opponent at their best...in any weight class.
Conversely, Gennady Golovkin and the team behind him have done everything they can to chase and make fights with the biggest names and title holders at 160 lbs. It's not as though fighters have been lining up nor chomping at the bit to get a piece of the Karaganda native. Golovkin may not have gotten the fights he's wanted but he has fought and defeated both David Lemiuex and Danny Jacobs whom are number 2 and 3 at Middleweight respectively. Canelo doesn't have any wins on his record that are nearly as prestigious as these two nor has he faced the type of punchers Golovkin has. What has Saul Alvarez done at any point in his career that shows us he can hang with or even defeat someone on Golovkin's level? Something to mull over and keep in mind as we head towards September 16th.
Canelo Keys To Victory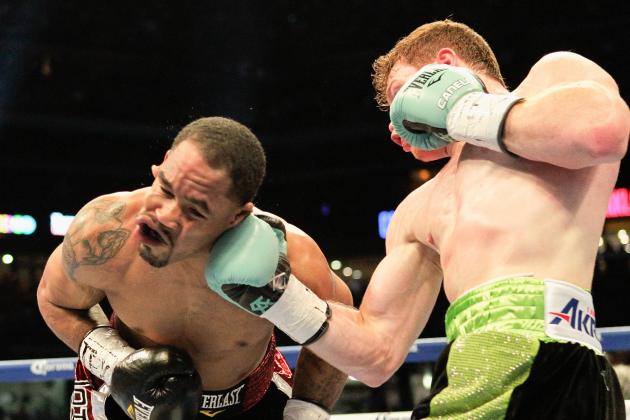 Photo: bleacherreport.net
Canelo's bread and butter is his counter offense but against someone with the accuracy, tenacity, fortitude, and power of Golovkin, Canelo is going to have to find a way to do more than simply wait for his man to come in and be countered. Being the second man to throw when facing Golovkin is a dangerous and risky thing indeed. Against Golovkin Canelo is going to want and need to be first, much in the same way Mikey Garcia was against Adrien Broner. Canelo will need to employ an effective strike first type of offense that makes it difficult for Golovkin to set anything up. Canelo will need to use his jab effectively to set up heavy hooks to GGG's body as well. Golovkin is a master of angles and positioning and Alvarez is going to have to find a way to move despite being a rather flat footed fighter. Saul's known for having excellent upper body movement and on Saturday he'll need to use that movement with a strong offense to help draw his bigger, stronger opponent in. Golovkin is the more accomplished, skilled, and decorated boxer in this fight so it would be foolish for Canelo to try and outbox Golovkin. Canelo must strike first and hard from the first bell until the final bell if he wants to pull off the upset.
Golovkin Keys To Victory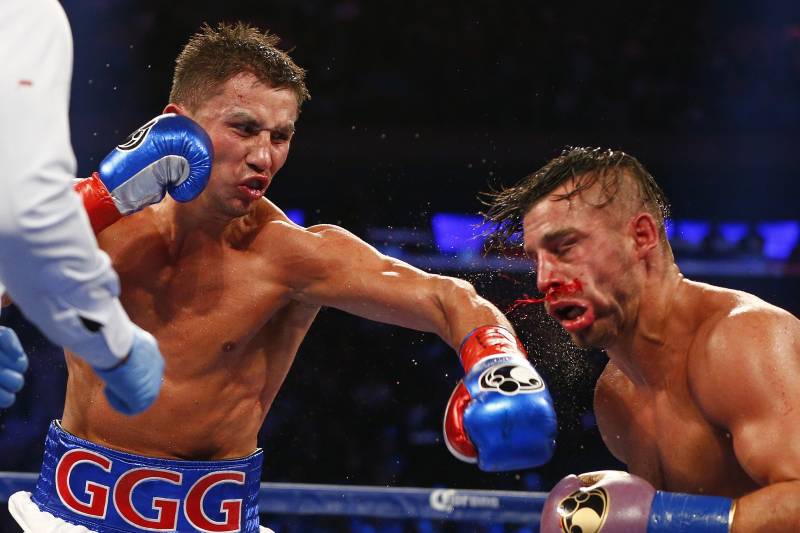 Photo: bleacherreport.net
Gennady Golovkin uses relentless pressure, power, and solid fundamentals to batter his opponents either into submission or unconsciousness. Against the younger and fresher Canelo, the champion will need to box effectively from the mid and outer ranges using his excellent jab, much like he did against Danny Jacobs and David Lemiuex. Golovkin's jab is the key to his success in this fight and the punch from which all power punches need to flow. If GGG comes forward with power shots only or tries to make it a street fight as he did against Brook, Canelo will find plenty of opportunities for strong counter shots that will score big if not hurt Golovkin. Moreover, Golovkin needs to keep his work rate and pressure high but be extremely measured, precise, and patient in his attack. Golovkin will also want to use his superior footwork and shifting to surprise and lay traps for Canelo.
How It Plays Out
Although I favor Golovkin in this fight I believe Canelo Alvarez wins the early rounds or at the very least, is very competitive in the early going. Expect Golovkin to spend the first 3-4 rounds of the fight figuring out Canelo's timing and Canelo to be the aggressor. The meaningful body shots Canelo will land in the opening rounds will send the crowd into a frenzy and cause Golovkin fans to sweat a bit. After round 4 however Golovkin will up the pressure, the work rate, and begin timing his ginger foe. As the pressure and number of punches increases Canelo starts fighting off the backfoot and falls back into his rope-a-dope routine. From here Golovkin will begin hurting Saul both to the head and the body. After a sustained beating, Golovkin catches Canelo with something big and sends him to the canvas once or twice before stopping him in round 8 or 9.
Originally I was picking Canelo to win a decision but after critically examining both fighters away from all of the hype and the promotion I was forced to change my pick.
Winner: Gennady Golovkin by TKO 8-9
Scott Jarvis is a boxing writer for Split D Boxing. He can be reached on Twitter, Facebook, or by email at splitdecisionbox@gmail.com.