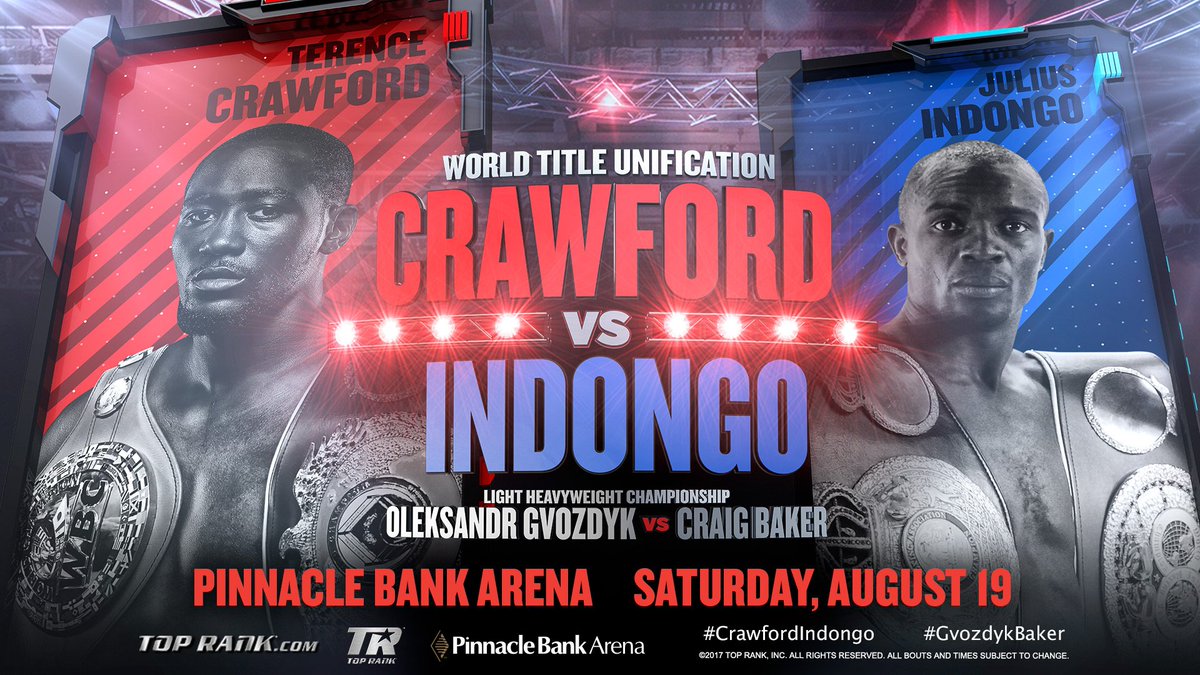 Photo: pbs.twimg.com
This Saturday, August 19th 2017, WBC and WBO Super Lightweight champion
Terence "Bud" Crawford
is set to take on IBO, WBA, and IBF Super Lightweight champion,
Julius Indongo
. You may be asking yourself, "Julius who, Indongo what?" even if you're the type of fan that watches boxing every Friday and Saturday, spends all week listening to any number of podcasts, and makes arguments for and against fighters on social media in the weeks preceding a fight. The Namibian may be a virtual unknown with both the casual and core boxing audiences but that doesn't do anything to take the bite out of this fight. Sure one is well justified in simply wanting to watch Terence Crawford fight anyone but not only is Indongo a solid fighter but this is a unification bout to boot! If you paid attention to what you read at the beginning of this piece you'd see that there are 5 world titles on the line. That means the man who walks away victorious will be
the
champion at 140 lbs...the Undisputed Super Lightweight Champion Of The World!
Photo: i.makeagif.com
Completely unifying a division in any era is an arduous task and one that only the sports greatest are successful in. In today's era however it's practically unheard of thanks to politics, egregious protection, and modern boxing business models. The last time boxing had an undisputed super lightweight champion was way back in 2001. On November 3rd of that year the ferocious Kostya Tszyu floored Zab Judah in the 2nd round of
their fight
, made him do a hilarious chicken dance, and ultimately stopped him when referee Jay Nady was more concerned than impressed with Judah's jig. This fact alone makes this fight exciting and worth watching, even if you don't know who Julius Indongo is.
If you've never seen the "Blue Machine" apply his craft there are videos all over YouTube that you can check out at your leisure. If you don't have time for such an activity however you'll want and need to know that Indongo:
Is a Southpaw
Has fluid movement
Is very tall, has a long reach, and is rangy
Throws a great deal of one/two's but rarely punches in bunches.
Chases his opponents around the ring rather than cutting them off.
Doesn't have a lot of power but has a solid left that can be dangerous.
Often lunges in and leaves his chin unprotected when he throws power punches.
Is primarily an outside fighter.
Has a very questionable resume.
Is light on his feet.
If you've never seen Terence Crawford fight all you need to know is that he not only fights with a high level of skill and ability but he has the power to stop his opponents as well. He isn't the fastest starter but Crawford has a mean streak in him that makes him all the more dangerous. More to the point, "Bud" is fast and accurate with his punches, is quick of foot, has fast hands, and has very good movement. Julius Indongo is no slouch, no pushover if you will but he's going to have his hands full on the 19th.
Julius Indongo Keys To Victory
Photo: boxrec.com
In order to stop the incoming assault of Crawford, Indongo has to find a way to disrupt Crawford's offense. He'll need to make the man from Omaha reset often if he can't outright put him on the defensive. Indongo may not have much power but his one/two is one of the best tools in his arsenal. He'll want to utilize these punches often along with a good stiff jab. Indongo mainly uses his jab as a range finder for his power shots but he'll need to stiffen it up and use it often if he is to upset Crawford. Indongo will also benefit from a high work rate in this fight. Generally speaking Indongo's workrate is average but a higher volume of punches may help to keep Crawford guessing and from coming straight in against a fighter how doesn't possess much power.
Terence Crawford Keys To Victory
Photo: boxrec.com
Terence Crawford and his team would be wise to implement a game plan that involves being aggressive right from the opening bell. Indongo can box no doubt but he's been disrupted and caught by fighters of a far lesser quality. Crawford will want to go to the body of Indongo and flatten those tires as soon as possible. Once Crawford slows or stops Indongo's movement and takes his legs away he'll have a much easier time landing not just scoring blows but blows that do real damage as well. Crawford would also do well to implement a counter punching strategy. Indongo can get aggressive and tends to lunge in with his punches when he puts his foot on the gas. In doing so, he leaves himself wide open for counters which Crawford can and should exploit. Crawford should also employ an inside game since Indongo doesn't really fight or fight effectivly on the inside.
How It Plays Out
It's difficult to imagine a scenario where Indongo truly troubles Crawford let alone wins more than 3 rounds...if it even goes the distance. That said, given that Terence Crawford isn't exactly a fast starter and that Indongo is a good solid boxer, expect to see Indongo walk away winning the first 2-3 rounds with his movement while Crawford spends the early going studying his opponents timing. Crawford will take over sometime in the 3rd or 4th round and overwhelm and likely hurt Indongo at some point. Crawford drops Indongo once or twice en route to a 12 round victory.

Winner: Terence Crawford by unanimous decision