Yesterday I received some questions (yea it happens once in a while) from a boxing fan named Glenn who says he's enjoys the way I talk boxing. Rather than engage one on one I told Glenn this would be an excellent opportunity for me to answer questions publicly. So without further ado, here is the first of Glenn's questions and my answer. More to follow at a later date of course.
I am looking forward to hearing your take on Klitschko / Joshua, not your views on the fighters but the match up.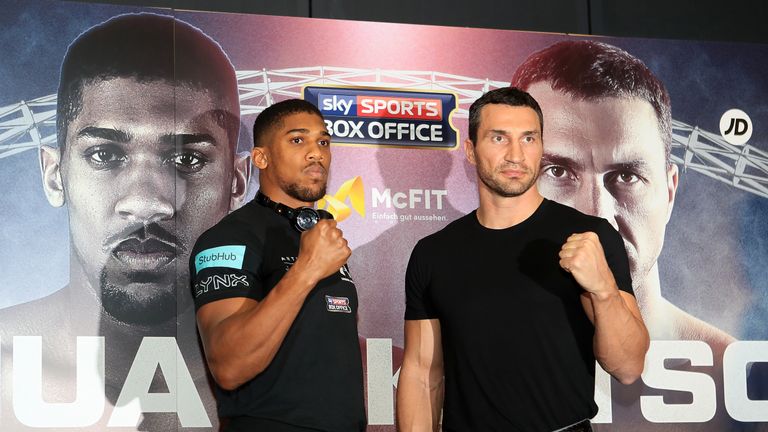 Photo: e1.365dm.com
It would be an arduous undertaking for me to break down the fight without first discussing the fighters involved Glenn. Joshua/Klitschko is one of those rare fights that's happening with the right combatants and at the right time; a crossroads fight if there ever was one! After looking extremely gun shy and dropping a decision to Tyson Fury at the end of 2015, it would seem that the 41 year old Klitschko won't have much of anything left in his tank when he faces England's latest athletic export on April 29th. Of course there's always the chance that against Fury, the future hall of famer simply had an off night, a bad training camp, was hurt, etc. though the consensus among both fans and pundits alike is that Wladimir isn't just out of gas...he's coasting into this fight on fumes. I remember some moments against Jennings where Klitschko looked like he might not be what he once was and after putting in that abysmal performance against a mediocre fighter in Tyson Fury I tend to agree with the aforementioned consensus.
What can I say about Anthony Joshua that hasn't already been said? Sure he's exciting, powerful, huge, he certainly looks the part, and has some good boxing ability but it's important to remember that he's largely untested. In the modern world of boxing fighters win titles and then go on to develop themselves; many making a career of padding their records and KO percentages without ever pushing or testing themselves. I don't necessarily believe that Joshua belongs in this camp of fighters completely but I do believe he might be a benefactor of a weak Heavyweight division and careful matchmaking, at least up to this point. The eye test tells me that Anthony Joshua is at least very good. Time and the right fights will tell us if he's more than that. I will say this however, against Klitschko keep an eye on his whiskers.
The Fight Itself
As for how I see the fight playing out that's a tough one Glenn. From my vantage point (the view from behind my laptop) the fight is a legitimate toss up and I've changed my pick many times since the fight was first announced. Both men boast nearly identical stats in the tale of the tape. Klitschko has an 81 inch reach while Joshua has only a once inch advantage there. Both men are behemoths at 6 foot 6, and both will probably weigh in close to one another the day before the fight. The only glaring and obvious advantage on paper Joshua has over the ex-champ is age. The old warrior recently celebrated his 41st birthday back on March 25th while Joshua doesn't turn 28 until October giving him a 14 year age advantage. No one can outrun or outbox Father Time no matter how dedicated, skilled, or athletically gifted they are when he comes calling. I see this fight as a classic age vs youth or a true passing of the torch match-up that should provide some very exciting drama, provided both men, or at least Joshua, are willing to push the action.
Klitschko Keys To Victory
Photo: http://i2.mirror.co.uk
Wladimir Klitschko has two weapons in his arsenal that he'll constantly need to be loading and firing if he is to defeat his much younger and fresher opponent. Both the Klitschko jab and the right hook need to be utilized with great frequency here. The purpose of Wladimir's jab will be twofold in this fight. It will not only keep Joshua from easily coming in with big shots but will allow the veteran to set up his big and lethal right hand. Joshua isn't exactly known for his head or upper body movement so this could help create a big advantage for Klitschko. Although a fighters legs are among the first things to go as they start to age, Wladimir will need to use what's left of his in order to keep the slower and plodding Joshua from setting up anything meaningful. If he can keep Joshua from finding his range or landing anything big Klitschko could walk away with the victory, quite possibly a KO.
Joshua Keys To Victory
Anthony Joshua is a solid boxer with thunderous power in both hands and will need to make use of both fists if he is to come away with a victory. Getting around Klitschko's jab isn't easy but that's exactly what he'll need to do in order to find success. Joshua would be well served by pressing the action early, doubling up on his jab, throwing combo's, and by constantly coming forward. No one beats Wladimir Klitschko off the back foot or by retreating. More than that, Klitschko has never responded well to overwhelming smart pressure. Joshua will need to change up the speed and power of his punches and he would be smart to go to the body often. If he can manage to take the air out of Wlad's tires I believe he'll take his spirit too. Of course if the Klitschko that fought Fury shows up, Joshua needn't worry too much about anything as it will be a relatively easy (but still dangerous) night.
How It Plays Out
I think the fight starts slow and uneventful with both Klitschko and Joshua doing very little and remaining wary of each other's power. Moreover, I wouldn't be surprised if the boo birds make their presence known in the early going and get vocal frequently throughout. I foresee Klitschko tiring mid fight and Joshua taking over at that point. I think the pressure Joshua applies throughout the fight eventually breaks the aging Dr. Steelhammer down and leaves him flummoxed and unable to pull the trigger. I can see a scenario however where Klitschko catches Joshua with something big and stops him so take my prediction with a very minuscule grain of salt. At any rate this is the kind of fight boxing needs more of. Let's hope it turns out to be as exciting as it is on paper.
Winner: Anthony Joshua by unanimous decision
Scott Jarvis is a boxing writer for Split Decision Boxing. He can be reached on Twitter or by email at splitdecisionbox@gmail.com.